This site offers individuals the ability to advertise garage sales on the internet. We strive to make advertising yard sales as effective and efficient as possible. By featuring tools that allow prospective buyers to more easily find garage sales, our site will give you great exposure for your yard sale. Below are a list of features that makes this site effective.
Find Garage Sales
Buyers
Additional exposure!!! Advertise a garage sale on Garage Sale Tracker and get additional exposure for your garage sale.
More time. Get up to two months exposure for your garage sale. More time means more potential buyers.
Add images to your listing for FREE.
Increased visibility for your yard sale
Unlimited word count. No limit on the number of words you can use to describe items in your yard sale.
Rain out guarantee. If it rains on the day you are having your yard sale. You can change your sale date at NO ADDITIONAL CHARGE.
Add a Sale
Sellers
FREE to use. Find garage sales using either the search or browse sales tools.
Filter results. Use the "Items for sale" tool to find yard sales selling exactly what you want.
Imbedded driving directions. Driving directions to the garage sale are provided on the site. No more copying and pasting address to get driving directions.
Automated driving directions. Create an account and get automated routing instructions to all garage sales.
Contact the seller. Have a question about an item on a garage sale listing? Call the seller or use the contact form at the bottom of each listing to contact the seller via email.
New Features & Benefits
Add a Sale is back!
A new login system has been added. Both existing and new users will need to create a new account to post a sale. Click add a sale to begin creating your new account. More is on the way!
Garage Sale Notifications
Have you ever wondered if there were any garage sales around you? Get notified of upcoming sales in your area.
Our Garage Sale iPhone Application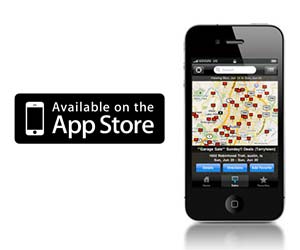 Here it is, an iPhone app for your garage sale sellers and buyers. To see the features for this garage sales iPhone application click here.